Securely Store, Protect and Destroy Your Content
Storing important information in one centralized place grants you complete control over it and unique records management and retention requirements are now well within your grasp.
By consolidating all of your important content into one system, OnBase solves the problems associated with managing content across a variety of databases, systems and physical storage locations.
Secure: With OnBase, you have one place to implement security policies and control who can access information and exactly what they can do with it.

Protect: OnBase protects you from disaster by maintaining electronic copies of all documents across multiple servers and locations.

Destroy: Retention plans and policies are easy to implement with OnBase. OnBase can declare single documents and complete folders as records, protecting them until their official retention period expires.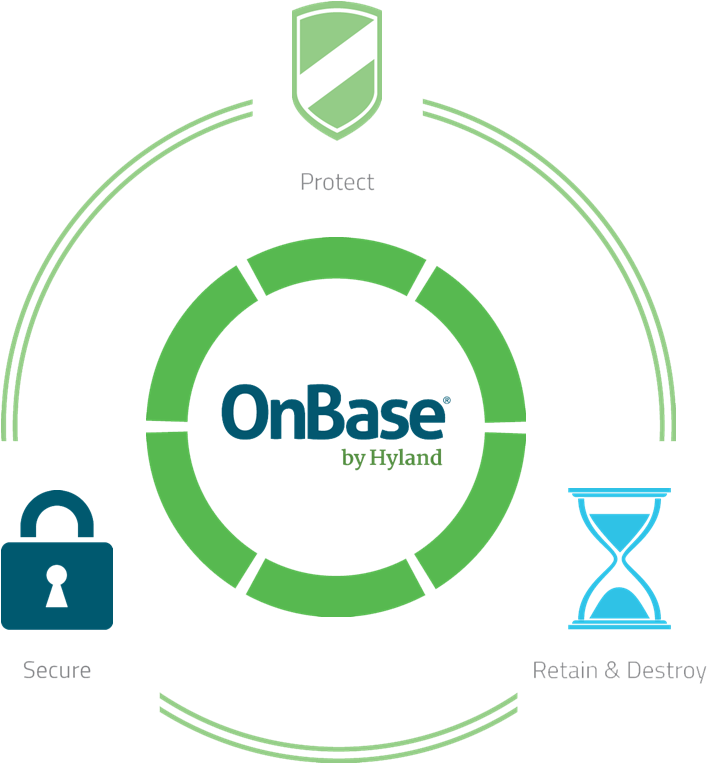 The OnBase Advantage
The OnBase architecture helps you protect your data without requiring third-party software and does not require you to purchase additional software or hardware to ensure that your system has online redundancy. OnBase utilizes any network discoverable file share, from simple Windows, Linux or Unix- based file servers all
the way through to dedicated storage devices that you already own.
OnBase also helps you manage physical items such as documents and records that support processes and regulatory compliance. OnBase tracks the location and status of these in one central interface, allowing you to mitigate risk and reduce manual work.