Monitor Your Process and System Performance
Transparency. Visibility. Control. These are the benefits of having all of your information stored in one central place. OnBase allows you to better understand the status of your content and processes.
Improve process speed and accuracy: OnBase provides real-time visibility into processes, including notifications of volume thresholds and aging content, giving you the ability to identify and eliminate bottlenecks and make timely decisions.

Audit readiness: OnBase eliminates the time-consuming and error-prone process of manually verifying documents. You can further speed up the process by giving auditors appropriate rights to access OnBase through a web portal, allowing them to perform the audit without coming on-site.

Track, prove and document ROI: By identifying and measuring your key metrics, you can track the return on investment (ROI) OnBase supplies from day one and provide documented proof as it happens – helping you cost-justify future projects.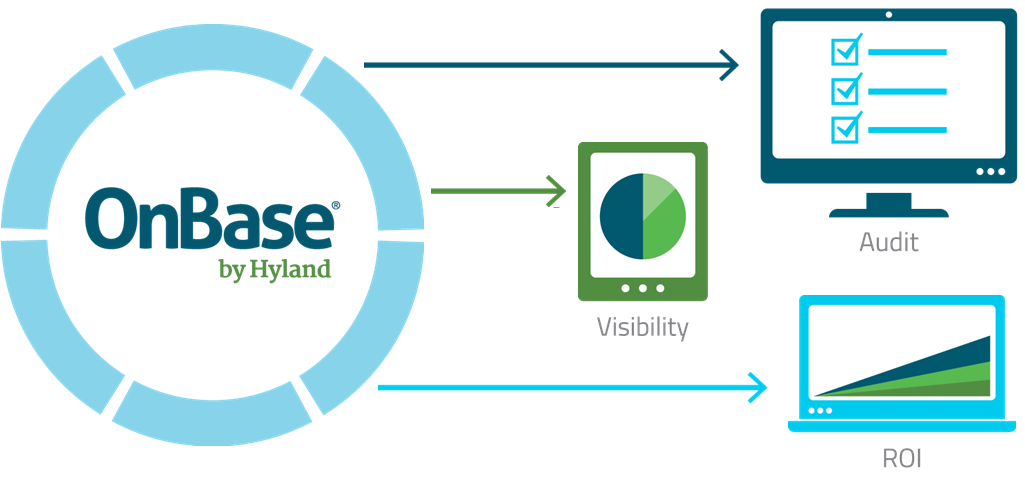 The OnBase Advantage
Run reports without involving IT. Using an intuitive reporting interface, you can run the reports you need, whenever you need them, without requiring a database administrator to do it for you.
Take advantage of the extensive set of 180 reports, pre-configured and optimized for the OnBase system. If additional reports are required, an intuitive, wizarddriven tool helps you create, manage and run the reports you need. You can access the report dashboards within OnBase from anywhere – such as websites,
SharePoint portals or from a mobile device.
Monitor your process and system performance with OnBase.